Le Chic
Nicole qualified 6 years ago as professional permanent make-up artist with Nouveau Contour, the leader in the permanent cosmetics industry.
She uses state-of-the-art computerised equipment to create eyeliners, lip-liners, blushes and eyebrows that work to visibly, but ever so naturally, enhance your facial features.
Keeping up with the latest developments in the permanent cosmetic industry, Nicole is always at the top of her art and profession. She is mainly based at The Nursery in Rochford for a fabulous range of high end packages and treatments.
What are the real benefits of permanent cosmetics?
Time saving and permanent good looks aside, permanent cosmetics also allow you to enhance your facial features.
Narrow eyes
Bulging eyes
Small eyes
Wide set eyes
Sparse eyelashes
Thin and/or asymmetric lips
Thin, inexistent or uneven eyebrows
These can all be optically corrected by permanent cosmetics!
Well-shaped and placed eyebrows can make your eyes look bigger and give your face a more youthful appearance without plastic surgery. Sparse eyelashes can be made to look lush with a subtle eyelash enhancement.
Nicole will discuss the procedures and choose the colours with you to find a look that suits you. Glossy or subtle, understated or glamorous, natural or more sophisticated, every look is within your reach.
"I love that now I hardly wear any make-up"
Tonya Bibby, Le Chic client
Gift Vouchers - Perfect at any time of year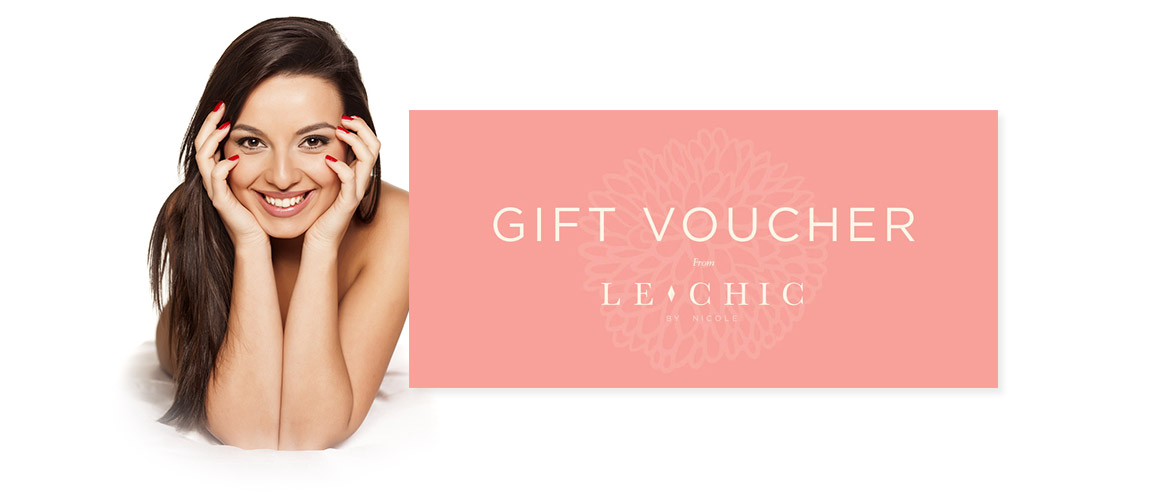 Buy your friend or loved one a special treat with some exclusive Le Chic By Nicole Gift Vouchers.
You can use our vouchers on our entire range of treatments.
Please note: All vouchers are valid for 12 months and are non-transferable. Contact us for more information.
Frequently Asked Questions
How does it work?
Permanent cosmetics are a type of cosmetic tattooing that uses pharmaceutical grade pigments which are applied to the second layer of your skin (dermis). This results in a beautiful shadow of colour that looks like perfectly applied make-up.
Does it hurt?
It's no more painful than having your eyebrows tweezed. Nicole uses sophisticated equipment and topical anaesthetics that eliminate any distress.
How long does it last?
Permanent cosmetics are exactly what they say – permanent! Over the years the colour may fade (2 to 5 years), but not to worry, you can simply have a touch up every year to 18 months making it look as good as new.
Can it be used for anything else?
The answer is 'yes'. Permanent cosmetics are used for paramedical work. They are ideal for replicating realistic nipples onto reconstructed breasts after a mastectomy or covering scars, hare lips or even the correction of plastic surgery.
Subscribe for special offers & news